At Derby Hotels Collection, our priority is the safety and well-being of our customers, employees and suppliers.
Given the spread of the coronavirus, we want, first of all, to express our solidarity with all those affected.
Our commitment to cleanliness:
We take hygiene and cleanliness standards very seriously, and are implementing additional measures to ensure the safety of all our guests, employees and suppliers. The health and safety measures of our hotels are designed to face a wide spectrum of viruses, including COVID-19, and range from hygiene in hand washing and specifications of cleaning products, to procedures for cleaning rooms, areas common and internal or storage areas.
These are the main actions that we are developing to guarantee the safety of our customers, employees and suppliers:

International certification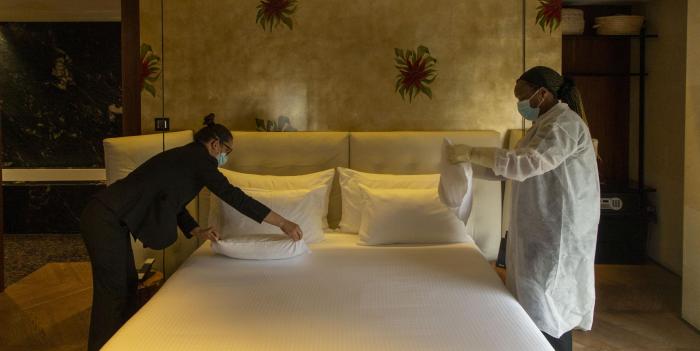 All our establishments are endorsed by the Safety and Hygiene Certification carried out by the prestigious international company Société Générale de Surveillance (SGS), through strict periodic audits for the maintenance of the most advanced cleaning and hygiene processes.
Furthermore, thanks to our strategic alliances with Marriott International, Design Hotels and Worldhotels - Best Western, we have also been audited and certified in their respective Health, Safety and Cleanliness programs and protocols.

Laundry services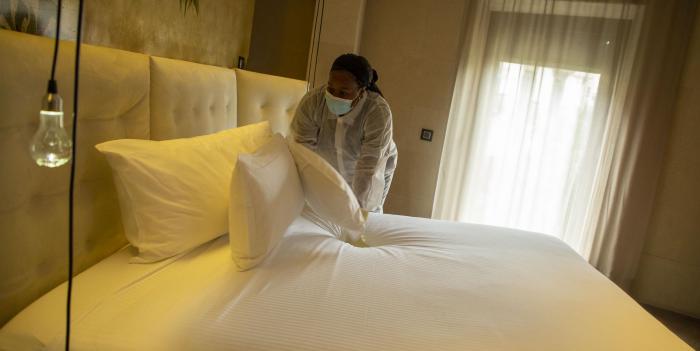 We use the only network of laundries in Spain with the certification in the UNE-EN 14065 standard, which guarantees the fulfillment of the processes, from the collection of used clothes to the delivery of clean clothes, according to the most stringent protocols; and hotel linen services fully aligned with the guidelines outlined by UK Textile Services Association (TSA) and VisitBritain Tourist Authority (BTA) and French Goverment indications.
Staff training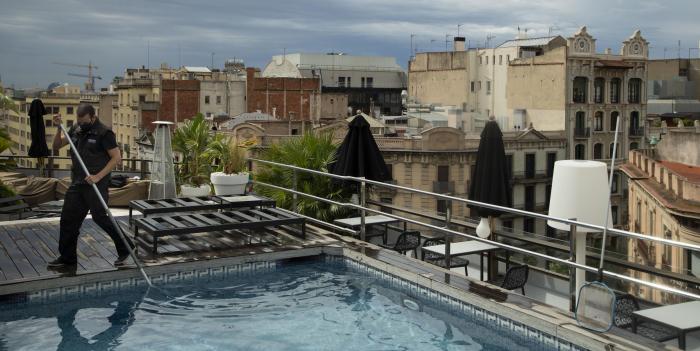 All our staff has received and continues to receive specific training on Safety and Hygiene Protocols, adapted to each workplace. This training has been coordinated by the renowned health auditing company SAIA.

Disinfection of rooms on each check-out with ultraviolet irradiation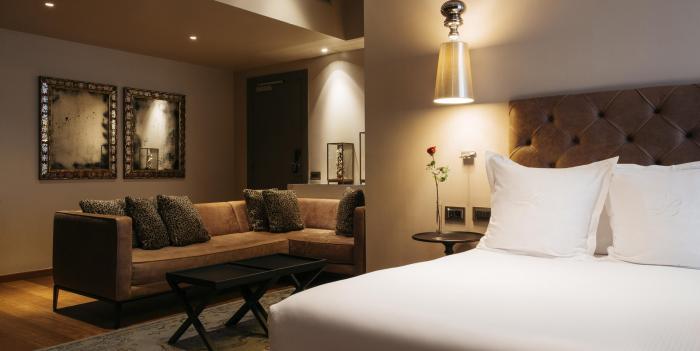 By means of the disinfecting germicidal lamps LB-UVC-1 with an emitted wavelength of 254nm, the most effective to disinfect attacking microorganisms such as germs, viruses and dust mites. These treatments are in accordance with the European Directives EN55014, EN61000 and EN60335 for electromagnetic compatibility and low voltage and the RoHS Directives 2011/65EU and 2015/863 for the restriction of dangerous substances.

Food & Beverage safety
We have adapted all the food & beverage services in our hotels, including breakfasts, restaurants, bars, room service and event catering. The sanitary certification of all our suppliers has been verified and we follow the strictest security protocols in the delivery processes, minimizing product handling and human contact. In restaurants and room service, strict security protocols are followed and only offer à la carte products.

Internal operations
The safety of our customers and workers is our top priority and for this reason we have extended the security distance between workstations, reinforcing hands' hygiene and the use of masks. In addition, we have implemented a very thorough cleaning protocol, using specific anti-bacterial products, biocides and ultraviolet rays, in order to ensure maximum disinfection in our establishments.

Our suppliers
All our suppliers and their drivers are protected with the corresponding PPEs. We do also ensure all vehicles and goods are disinfected after each shift. In this way, we can guarantee that they arrive on the next route in the best conditions.
International medical assistance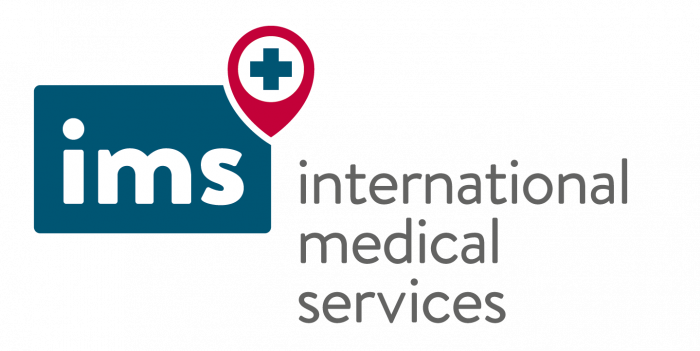 Through an exclusive agreement with the prestigious company International Medical Services, we guarantee 24-hour medical assistance with multilingual doctors in our hotels in Barcelona and Madrid, and if necessary, ambulances and preferential assistance in our reference hospitals, by back-charge to the patient's international medical insurance. This service is not valid for clients of Spanish nationality who are already covered by the national Public Health network or their own private medical service in Spain.
Flexibility in reservations
In addition, we have also adapted our cancellation and reservation change policies to offer additional flexibility to our customers in the current situation.